Klout PWR Mamba Pre-workout Product Review With A Promising Ingredient Profile
If you're looking for a high intense pre-workout formula you have to checkout Klout PWR Mamba. The ingredient profile is promising delivering 200mg of velvet bean, 250mg of VitaCholine branded choline bitartrate, 1.5g of tyrosine, and a combined 400mg of two sources of caffeine. 
I call it the "sweat factor" of this formula with 3mg of alpha yohimbine, 2mg of yohimbine and 30 mg of Gamma Butyrobetaine (GBB). The GBB found in Klout PWR adds an overwhelming amount of sweat. If sweating is your goal, you found the right product. The recommended dosage for GBB is 25 - 50mg, one dose per day. Klout PWR Mamba provides a moderate amount of GBB which is more than enough to get the blood flowing.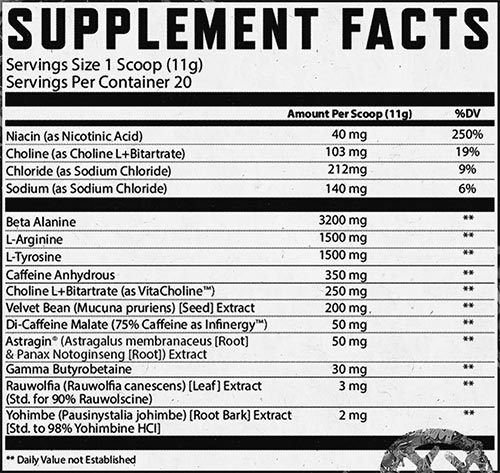 Klout PWR Mamba comes in three (3) mouth watering flavors: Sourade (watered-down Lemon Head candy), Norther Lights (fruit and berries blend) and Juicy Burst (tastes just like a pink Starburst candy).
We mixed one (1) full scoop into 8 oz. of cool water taking it 20 minutes prior to exercising. The powder is fine and mixes extremely well. At 8 oz. of water, the Sourade flavor is best described as a watered-down "Lemon Head candy" flavor, is the easiest way to put it. Some pre-workouts have the "sour" style flavoring profile, which is what was expected from the Sourade flavor however it was surprisingly not as sour as some other pre-workouts with the similar flavoring.
Klout PWR Mamba kicked in almost immediately with a solid hit of focus factors, energy and immediately sweating effect. Even after a solid 45 - 60 minute workout, the sweat effect is still as intense as it was after the initial consumption.
Big fan of the focus, energy and endurance but if you don't like sweating your a$% off for the next hour or two, this may not be the pre-workout for you. If you are a heavy stimulant fan (aka stim junky) then Klout PWR Mamba is a MUST. 
I would advise anyone using this product for the first time to cut the scoop (serving) in half and add it to 8 - 10 oz. of cool water for the best experience. As you progress through the tub, gradually add additional powder to your serving until you build a solid tolerance for the ingredient profile. 
In conclusion, the overall effects of Klout PWR Mamba is worth noting and definitely worth trying. We recommend if you want to get the best of both worlds, stack MAMBA with Klout PWR Realm. You'll get the energy, focus, pump and sweat to crush each workout.
---